Regular price
$127.00
Sale price
$59.00
Unit price
per
Sale
Sold out
HEY, RESELLER! DIVERSIFY & GROW YOUR INCOME WITH CONSIGNMENT!
You've been selling online for a while now, but you know it's time to diversify and grow your income.

You're ready to not be so dependent on thrift stores.
You're ready for new and exciting, high-value inventory (that you don't have to pay gobs for!).
With the kit, you'll get everything you need to successfully add a consignment component to your business, so you can diversify and grow your reselling income.
The Ultimate Consignment Starter Kit makes it quick and easy to get up and running with consignment!
Here's what's included:

Consignment Roadmap

Inside The Ultimate Consignment Starter Kit, you'll get...
Consignment Roadmap
Your guide to using to using the kit. You'll get a clear path to follow that will take you from the first steps through to signing your first client!
Profit Boost Workshop: Adding Consignment To Your Reselling Business
In this 30-minute, action-packed workshop, you'll learn:

How to get high-value items (so you make more, even after paying your consignors).
3 easy steps to get started with consignment so you aren't dependent on just thrifting or garage sales!

Must-haves for your consignment agreement so you make what you deserve!
Swipe File To Get Consignment Clients
Letting friends and family know you're offering consignment doesn't have to be scary!
With this swipe file, you'll get the exact words to use to showcase the amazing service you're providing! 
You'll:
Feel confident

 

letting friends and family

 

know you're offering consignment.

Get

 

high-ticket consignment inventory

 

all year long.

Have them begging for your services!
Social Media Images To Get Consignment Clients
Make the most of your swipe file by adding images to your posts. You'll get 24 professionally-designed images so you can:

Grab the attention of potential clients.
Get consignment clients, so you can diversify your reselling business!
Swipe File To Discuss Details With Clients 
Discussing things like your commission doesn't have to be awkward. This swipe file will give you the exact words!

The swipe file will help you:
Showcase your services so clients feel comfortable consigning with you.

Get rid of the awkwardness

 

of discussing things like your commission.
Gives your client the next step to take to consign with you.
Consignment Agreement Template
Ready to start taking consignment, but not sure how to word an agreement, or what to include?
Just plug in your info to the consignment agreement template, and you'll be ready to go with your first consignment client in a jiffy!
The template will help you:
Have your consignment agreement ready to go in 5 minutes.
Quit wondering what to say (it's all done for you!)
Inventory & Sales Log Spreadsheet
When you've got your first client, this spreadsheet will help you log their inventory as well as calculate your earnings!
The spreadsheet will help you: 
Have one place to log your inventory and track your sales.

Have a document that you can give your client that outlines the items on consignment and the prices expected.
Always know where you are at for your earnings (they are automatically calculated for you!)
This is a digital product. Nothing physical will ship.
View full details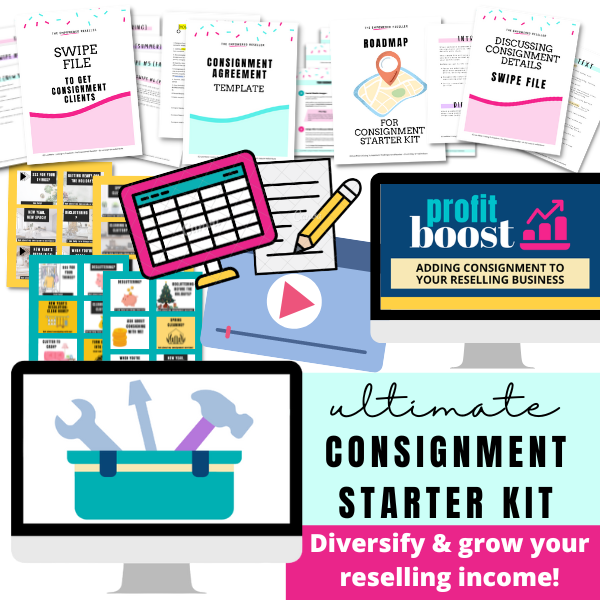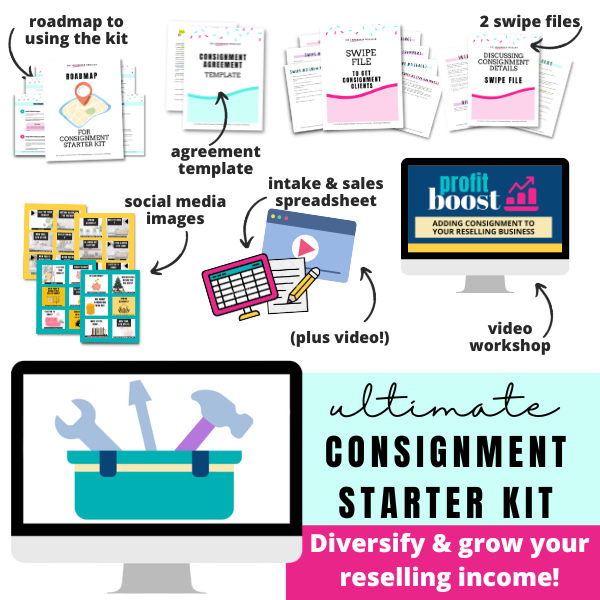 BUNDLE & SAVE
Automatically save 20% when you get 2 or more items!